WELCOME TO NANNE GRONVALLS OFFICIAL SITE!
Success for Snow White
November 2015




4+ got the show in the ratings by the Times! "Nanne Grönvall shines as the evil queen and the witch." Jens Peterson (Aftonbladet).
http://www.aftonbladet.se/nojesbladet/scen/article21682466.ab
The musical premiered at the Maxim Theatre in Stockholm, 1 November and played there until the beginning of January. Then its out on tour in Sweden starting in Linkoping 10 January and the final in Malmo on May 28!
On the 30th of October, Nanne was a guest in both Gomorron Sweden and Nyhetsmorgon TV4 and spoke before the premiere;
http://www.tv4.se/nyhetsmorgon/klipp/sn%C3%B6vit-som-musikal-passar-alla-barn-fr%C3%A5n-3-100-%C3%A5r-3215551

Nanne in this year's Advent Calendar
November 2015


Nanne Grönvall and Lily Östervall Lyngbrant is starring in Månsaråttan, the Swedish Radio Advent Calendar 2015. Photo: Micke Grönberg / Swedish Radio.
Nanne is one of the main protagonists in this year's Advent Calendar "Månsaråttan"! "To play a starring role in this year's Radio-Christmas calendar" Månsaråttan "were among the funniest thing I've done," says Nanne. Together with among others Lena Ph, Johan Glans, Dogge Doggelito, Carl Bildt, Nour El-Refai, Anders Jansson, William Spetz, Lily Östervall Lyngbrandt others Nanne will be heard on the radio in an exciting and funny story all the way up until Christmas Eve!
The first episode broadcast on December 1.

http://sverigesradio.se/julkalendern
http://sverigesradio.se/sida/artikel.aspx?programid=4863&artikel=6245979



Nanne in Karlavagnen at SR
November 2015


In the summer we have again been able to hear Nanne Grönvall in the ether of the famous show Karlavagnen (Big Dipper)! Have you missed the broadcast, or do you want to hear them again as they are to listen to this:
Aired Wednesday, August 12 at 21:40
Wednesday - Karlavagnen Summer Evening with Nanne Grönvall
Life after abuse
http://sverigesradio.se/sida/avsnitt/592941?programid=3117

Aired Tuesday, August 11 at 21:40
Tuesday - Karlavagnen Summer Evening with Nanne Grönvall
Can you learn empathy?
http://sverigesradio.se/sida/avsnitt/589918?programid=3117

Aired Monday, August 10 at 21:40
Monday - Karlavagnen Summer Evening with Nanne Grönvall
Winner Summons and bad losers
http://sverigesradio.se/sida/avsnitt/591838?programid=3117

Nanne in TV4 Lotta at Liseberg 7th of july

New CD out now! Follow Nanne on Spotify!

New album january 29:th


Nanne releases a new single-cd october 21:st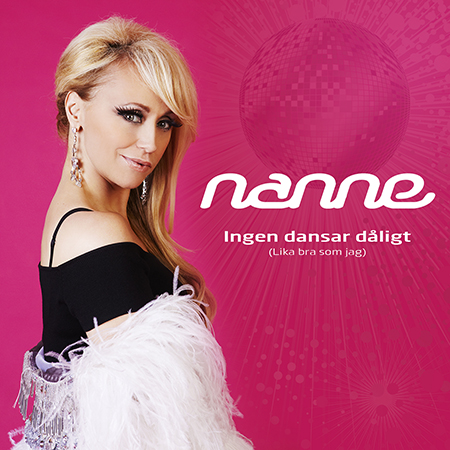 NANNE - My Rock Favourites - TV-SPOT (2013)

NANNE - I NATT ÄR JAG DIN

NANNE - NAG (2013)

ORDER THE CD "MY ROCK FAVOURITES" HERE:




YOU CAN ORDER THE SINGLE "NAG" ON ITUNES OR SPOTIFY:
NANNE - OTACKSAMHET

NANNE - EN RASTLÖS SJÄL

NANNE & SATOR IN TV4:s ELDSJÄLSGALA


Here you can find high quality downloads of many of Nannes songs
Thank you so much to all of you Eurovision-fans for the "Past Participant of the Year Award". This is such a special award, I am so happy and it really means a lot to feel your precious support. I am truly grateful to the wonderful fans and I look forward to seeing you at Melodifestivalen. Love and kisses to you all!
Nanne.

ABOUT NANNES WEB SITE
Here you can read most things about Nanne. We've just started writing in english as well on this website. In time you will find most pages in both english and swedish. English text will be written in blue/red colour. Here you can find her impressive discography through her over 25 years as a recording artist, photos, eurovision info, videos and much, much more. She's also now started bloggin both in swedish and in english. You can write messages to her in the guestbook and also write questions, which she then replies to in her blog. If you wanna get in contact with someone concerning this web site, please contact Kim at Somco AB. somco@swipnet.se

NANNE GRÖNVALL....WITH V AND NOT W.
Many people spell Nannes surname with W instead of V. So for you searching for articles etc about her on the internet and can't find it - try searching on Grönwall instead. If you for instance search in Google, you'll find about 300.000 pages with Nanne Grönvall, but if you try with a "w", you'll find another 335.000 pages.